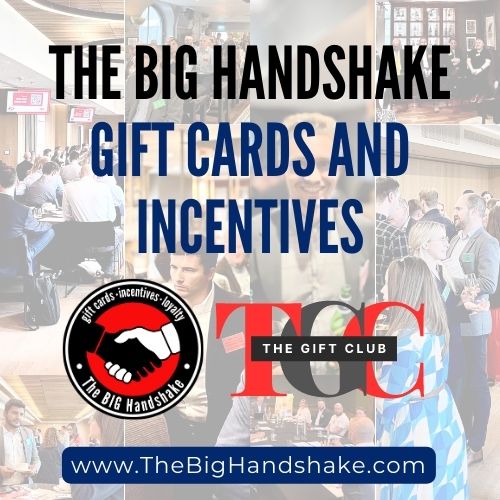 The Big Handshake – Gift Cards and Incentives
An absolute must for anyone associated with gift cards, incentives, loyalty, engagement and rewards in Europe and beyond
The theme of this event errs towards 'B2B partnerships' and we'll be welcoming:
brands and merchants looking for new ways to promote and sell their gift cards and gifting products across the UK, Europe and beyond.
gift card distributors, aggregators, manufacturers, processors, consultants, incentive houses and agencies who are looking to find new and innovative ways to sell their clients' products and their own services to increase channel opportunities and revenue levels across the region
Heads up! 70% of the event will be networking and promoting how we get (and keep) the industry collaborating through partnerships and new sales channels.
14th May -In the afternoon, everyone can attend a 3 hour speed networking session. Be prepared for some fun, fast talking, match-making, refreshments and lots of hand shaking ( and then some well earned bar drinks)!
15th May – Everyone is invited to a full day of networking, interactive panels, break out sessions and debates. Plus a unique opportunity to learn new skills or refresh old ones that could take your partnership & sales prowess to a whole new level!