By Lucy Allen of Trifecta
I hate to be the bringer of doom and gloom, but the fact of the matter is there is a recession on the way, we can't avoid it.  However, companies can prepare for it and strengthen their employee proposition in order to ride the storm which is set to begin at the end of the year and last at least a year, so the work needs to start now.  In light of the most recent data outlining employee satisfaction at work, changes are imperative.
80% of employees are disengaged at work   – Gallup
Over a third are tempted to quit their job    – Indeed Happiness survey
Labour productivity down 2 months in a row   – Office of national statistics
17% of employees love their job   – Yougov
So, what does that mean?  How can you set yourself above your competitors and attract and retain the talent you need?  The formula can alter from company to company on how to achieve the employer of choice depending on their market position, demographic and competitors, but the basic principles below remain the same.  Here's where you start.
You must have a clear sight of what your company values actually are.  What are you working towards, what do you stand for and what are you providing to your clients?  Your culture outlines a roadmap of what you should expect as an employee, how you communicate, collaborate and connect. It is essential to have a definitive sense of both areas, effectively communicated to all employees.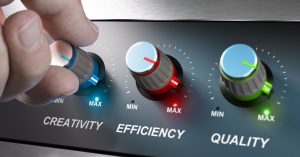 Marketing Personalisation
What you portray to the outside world and what your employees say about you will have a huge impact on how your company/brand is perceived.  By incorporating marketing which includes employees' POV on any given achievement or project, you're projecting a more personal relatable view of the company.  This also demonstrates an element of inclusivity and value held to those employees.
The most important basic principle. Finding the right employees for your business must start with an effective strategy which has culture and values built in. Interviewing is a skill not everyone has, so consider upskilling your managers in this area to hone their skills and ensure the growth of the business is assured and costs are reduced. Your people are everything!
Give new recruits a warm introduction to the company with a compelling onboarding process.  There is nothing more awkward and off-putting than sitting in reception on your first day and no one knows what to do with you. No matter where the new recruit may be working, understanding the business as a whole is really helpful. A round-robin approach with each department is a great way to understand the business, meet the team and feel at home. Include the marketing personalisation I mentioned above and there will always be a familiar face too.
Giving something back can be an excellent motivator and retention tool. With the cost-of-living crisis in full effect, supporting employees with an effective benefits package can make all the difference. The market is flooded with providers and it might be difficult to know where to start, Trifecta can help with that. However, always survey your employees first to make sure you know what they want.
Yes, this all involves a certain level of investment in a time where you might be tempted to tighten your belts and batten down the hatches, but in my experience, the proven benefits and the return on investment will far outweigh the spend. There's a reason EB companies ride out recessions, benefits work!
Historical statistics have shown us these principles achieve a substantially higher rate of retention.  With an increase in retention, you have better internal relationships, which elevates positivity and collaboration, which in turn will attract new recruits.
I have worked extensively with companies to analyse their current position in their market and make the necessary adjustments to change their fortunes and make their company the employer of choice.
For an initial consultation to look at the areas to elevate your company, contact Lucy-Claire Allen at Trifecta or complete the enquiry form on the GCR website.