By James Malia, UK MD at Prezzee
"In 2023 and beyond, reward will remain exactly where it should be – in the DNA of every business keen to recognise people making a difference to the company or their colleagues. However, it feels there will be a stronger focus on 'support'. Throughout December, our team was speaking to clients who wanted to support their staff over the festive period, not reward them. It's certainly more driven by emotional connection and an awareness of the current climate, with households hunkering down at the moment, and every penny saved is a win.
"Employers will be looking at cost-effective solutions, but also more supportive ones. Financial education is high on the agenda. It's still pretty new in the benefits world but will become a necessity given the significant portion of the population looking for guidance on how to manage their money during these testing times. Employers are well placed to provide this support and there are multiple options available that won't break the bank, but might just make a traditionally lean start to the new year more manageable. It will certainly aid financial inclusion across all demographics too, from the younger generations still wanting to save, to the over 55s tempted to touch the pension early to ease the financial strain.
"My role here at Prezzee encapsulates people, culture and HR roles so I'm hearing more conversations than ever around support benefits. There are so many options, from parental leave, mental wellbeing, childcare and now elderly care and menopause – it's becoming more inclusive and much less 'tick box'. Healthcare is back too. Since Covid, it seems we are all more aware of our own mental and physical health and motivational options that build competition and reward are becoming increasingly prevalent. There also needs to be a focus on how support is shared, as regular interaction is far more engaging than 'set and forget' ever could be.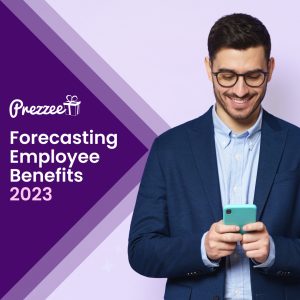 "The cost of living crisis is seeing us buying less but spending more. Benefit schemes aren't expensive for employers to run, but can have a significant impact on the employees. From discounted shopping to health and wellbeing, any support the employer can give to ease purse strings slightly can go a long way. The key is to ensure that all staff are aware of what is on offer so they can decide whether they use it or not. Don't spend money on a benefit to then not promote it – shout about it, from the recruitment pages to the town halls.
"The coming months will showcase if there will be legislative changes that will impact benefits. We have seen the increase in trivial benefits in Ireland up to €1,000 which has a huge impact on employers wanting to support employees with gift cards when they really need it during the cost of living crisis, without long term commitment. The UK needs to take a similar step to make it easier for employers to help those who need it most."
Get in touch to find out more about how Prezzee can support your employees through 2023.